October 23: APNET Symposium
APNET invites you to the 2021 APNET Symposium. This event brings together innovative minds to network, advance their businesses and professions, and celebrate individuals and businesses that are making a difference in the community. This year's theme Is Celebrating Excellence In Our Community.
APNET Symposium is an electrifying night filled with engaging speakers, inspirational award/scholarship recipients, scrumptious African cuisine, and captivating cultural entertainment. It is a great networking event that brings together individuals, business/community leaders, professionals and entrepreneurs, and individuals with a passion for African affairs to celebrate the African Diaspora experiences. For more information, visit https://apnetsymposium.eventbrite.com.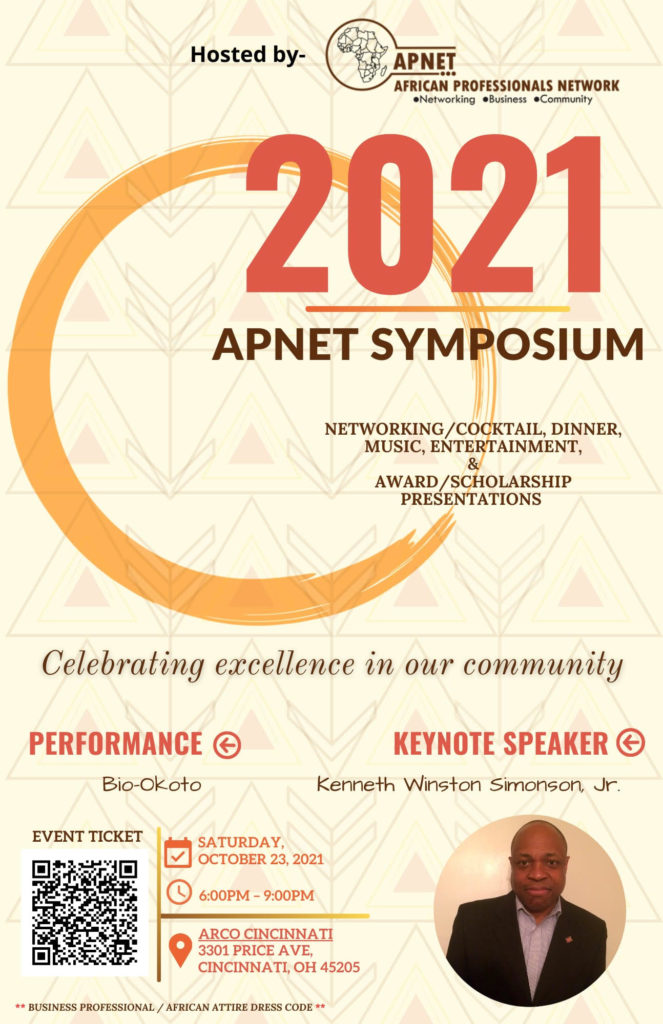 July 20-21: PLO Lumumba In Cincy
Prof. P.L.O. Lumumba, renowned Pan Africanist and anticorruption activist will be touring the U.S. from July 7 – 26, 2021. He will be in Cincinnati between July 20-21. Get your tickets HERE.
Professor PLO Lumumba is the Founder of the PLO Lumumba Foundation and a consultant with Lumumba and Lumumba Advocates, a member of the Africa Justice Group (AJG). He is an Advocate of the High Courts of Kenya and Tanganyika and a certified mediator. He is a Fellow of the Institute of Certified Public Secretaries of Kenya FCPS (K), a Fellow of the Kenya Institute of Management (FKIM) and Honorary Fellow of the African Academy of Sciences (FAAS). He is the Chairman of Farafina Investment Group in Monrovia, Liberia and Economic Strategic Growth and Development Initiative for Africa based in Nigeria. He has authored several books on diverse subjects. With several speeches on diverse subjects delivered in and outside Africa, Lumumba is recognized as one of the leading public speakers in Africa and the African in Diaspora. He is the founder of several organizations including the PLO Lumumba Foundation, a charitable organization that has been in operation since 1990. He has also been twice recognized as one of the 100 most influential Africans.
For more details, visit https://www.plolumumbausatour.com or email Prince Ellis at prince.ellis@myapnet.org. Check our our sponsorship packages HERE.